About Laing+Simmons, Fairfield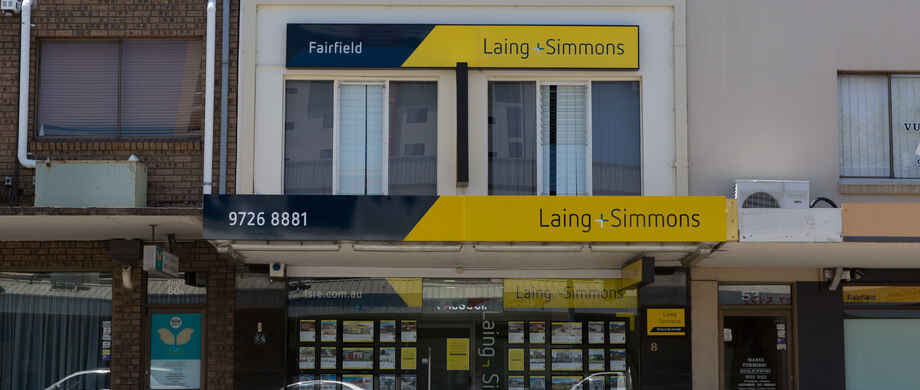 Laing Simmons, Fairfield was taken over by Ian Luong in 2001. Since then, the office has operated thoroughly and has become the prominent agent in local communities by their dedicated, hard working, professional and qualified staffs.
Laing+Simmons, Fairfield located at 58 Smart Street, in the centre of Fairfield CBD, is one of busiest streets in Fairfield, with many offices, school and shops surrounding.
If you're interested in selling your property, Laing+Simmons Fairfield can:
Help you with expert advices and services throughout the process.
Offer obligation-free valuations and an appointment can advise on price, method of sale, advertising and marketing campaigns and the best timing.
Offer first-rate local knowledge and experience with years dedicated solely to the real estate industry in

Fairfield

/Liverpool /

Bankstown

and surrounding areas.
Ensure your property receive the marketing power and support.
If you're interested in buying property, Laing+Simmons Fairfield can:
Provide advices on real estate market in New South Wales and Australia.
Help you to select the right property.
Give you supports in legal and organize finance as we are partner with some mayor Bank, Broker and Legal Service.
Provide information on rental return, property management service and help you secure your income.
Yet, at Laing + Simmons Fairfield we manage your investment and protect your interest with our knowledge, expertise and professionalism and work under the Real Estate Act, as well as other Acts of Parliament
At laing + simmons fairfield, we speak your languages. Our friendly staffs can speak fluently 9 different languages.
Contact us now on 9726 8881 or visit our website www.lsfairfield.com.au for the latest in property news, as well as our properties for sale and lease and much more.
Laing+Simmons Fairfield
| | |
| --- | --- |
| | vCard |
Andrew- Owner 1/9-11 Veron Street, Fairfield East
Selling my house 24 August 2016 Aldo Palermo is a great guy, I'm happy to deal with him because he is knowledgeable and honest guy, I would recommend Aldo to my friends and family. I will ask Aldo in future for sell and buy more property. Andrew La
Trang & Sung - 32 Carmicheal Drive, West Hoxton
A very trustworthy honest agent Vendor Review - Recommended by TrangLe7654 10 August 2016 Andrew is definitely one of the best agents I have used to sell my properties with. He is a very genuine, honest and trustworthy person. At the beginning I thought he was just like any agent, but he earned...
Aaron Wu- 98A Tangerine St, Fairfield East
Hard working real estate agent Vendor Review - Recommended by AaronWu 12 August 2016 I am very happy with Andrew helping me to sale of our family home and archive a good outcome and during the process I have found Andrew is working very hard, honest, good customer services, willing to listen...
Chris- 504/28 Smart Street, Fairfield
Very helpful and comfortable REA. Facilitated the sale of my apartment and very happy and satisfied with the results.
Jacob - 303/13 Spencer St, Fairfield
Good agent Andrew was very friendly and easy to deal with. Highly recommended
Stephanie
Andrew did a fantastic job in selling my property. He was professional and knowledgeable about market pricing. Andrew was very responsive and easy to work with. I would highly recommend him to anyone looking for a good agent. Stephanie
Chana & Hang
We'd like to compliment one of your employees Andrew, for the exceptional service he has provided with the sale of our first home. With Andrew's professionalism, positivity and attention to detail he managed to sell the place 2 weeks prior to auction date. We are so pleased with the...
Fay and John Mawson and family
23rd December 2014 Dear Aldo We would like to thank you for the excellent work you did as our Real Estate Agent in our task of selling our most beloved home of 49 years in Mount Pritchard. We chose you as our Real Estate Agent because you impressed us from the outset with your quietly...
Trang & Sung
7 Canidius Street, Rosemeadow
Mary Tran
Dear Andrew, I would like to take this opportunity to thank you for your helpful and professional approach in helping me find my first home. Your exceptional knowledge of the property market and high attention to detail led to a very satisfactory outcome for me to find my perfect home. Although...
Nada Al-Obaidy Testimonial
From: nada.obaidy@optusnet.com.au To: leanne@lsre.com.au Sent: Wed, 22 Jan 2014 19:08:43 +1100 Subject: Thank You Good Evening Leanne, This is to confirm that I used to be the owner of the house located at; 20 Austen Close, Wetherill Park, NSW2164. and I would like to take this opportunity...
Phaik Gooi
Dear Andrew, Kim & Ian, I just wanted to send you a quick note to say I'm really happy with the services that your agent,Andrew Truong provided to me during the sales process of my property at 21 Robinia Ave, Fairfield East 2165. Andrew has kept me informed with the latest updates from...
Charles & Angeline Lauwira
Dear Andrew, What a Jehovah God's blessing that having you as our sales agent! Angeline and I would like to take this opportunity to thank you for your honesty, cooperation, professionalism, genuine care and personal interest you showed, not only to us as vendor but to our potential...
AWARDS
LAING+SIMMONS FAIRFIELD AWARDS
ANH HOANG
29th April 2012 Dear Andrew, I would like to take this opportunity to personally thank you, not only for your hard work and professionalism, but also the amount of care and thoughtfulness you devoted to achieving a fantastic result which exceeded my expectations at auction. I initially met...
ROBERT & RHONDA QUARTERMAIN
We wish to convey our thanks to Aldo for the way in which he conducted himself and his business regarding the sale of our property. Aldo affored us every opportunity to sell, and exceeded our expectations with his enthusiasm and tireless efforts to achieve the best outcome possible. Aldo and the...
THE MACIAS FAMILY
Please see the attachment
JOSEPH DEGUARA
Please see attachment
THANK YOU FROM STEPHEN & HONG TO ANDREW TRUONG
We would like to thank you for all your efforts in seeking the sales of our place through to completion on Monday, and congratulation you on your excellent work. We really appreciated your deligence, and the manner in which you faciliated the process between all the parties including the...
BOB TRAN & GEMMA TRAN
12 FRANCIS STREET, FAIRFIELD NSW 2165
Find An Agent