About Laing+Simmons, Fairfield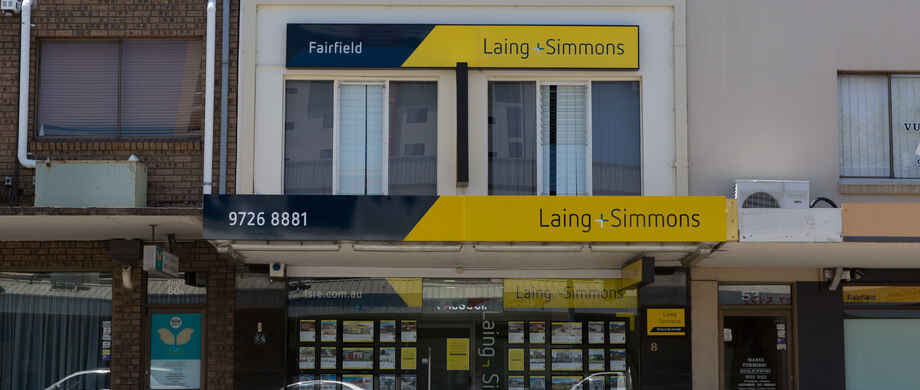 Laing Simmons, Fairfield was taken over by Ian Luong in 2001. Since then, the office has operated thoroughly and has become the prominent agent in local communities by their dedicated, hard working, professional and qualified staffs.
Laing+Simmons, Fairfield located at 58 Smart Street, in the centre of Fairfield CBD, is one of busiest streets in Fairfield, with many offices, school and shops surrounding.
If you're interested in selling your property, Laing+Simmons Fairfield can:
Help you with expert advices and services throughout the process.
Offer obligation-free valuations and an appointment can advise on price, method of sale, advertising and marketing campaigns and the best timing.
Offer first-rate local knowledge and experience with years dedicated solely to the real estate industry in

Fairfield

/Liverpool /

Bankstown

and surrounding areas.
Ensure your property receive the marketing power and support.
If you're interested in buying property, Laing+Simmons Fairfield can:
Provide advices on real estate market in New South Wales and Australia.
Help you to select the right property.
Give you supports in legal and organize finance as we are partner with some mayor Bank, Broker and Legal Service.
Provide information on rental return, property management service and help you secure your income.
Yet, at Laing + Simmons Fairfield we manage your investment and protect your interest with our knowledge, expertise and professionalism and work under the Real Estate Act, as well as other Acts of Parliament
At laing + simmons fairfield, we speak your languages. Our friendly staffs can speak fluently 9 different languages.
Contact us now on 9726 8881 or visit our website www.lsfairfield.com.au for the latest in property news, as well as our properties for sale and lease and much more.
Laing+Simmons Fairfield
| | |
| --- | --- |
| | vCard |
Colin - Vendor 9 Banksia Ave, Fairfield East
Aldo is a fantastic sales person with great communication skills. Aldo has gone over and above our expectations of what a restate agent does to help sell our family home. Aldo communicated all the way through the process of what had happened over the weeks and the feed back was excellent...
Andrea- Vendor 18 Bessie Street, Leppington
Thank you so much. I just wanted to ask if you could pass on to your superiors my praise for Aldo. He is an absolute gentleman who only has the best interests of his clients at heart. I truely felt comfortable working with him. He is very knowledgeable about all aspects of real estate and...
Michelle (Buyer) 22 Truscott Ave, Middleton Grange, NSW 2171
Excellent Agent - 20 Jul 2018 Aldo has been Amazing in helping me purchase my first home. He was always available to answer and questions and to show me properties at times that where suitable to me. He is extremely professional and friendly, thank you Aldo.
Theresa vendor 22 Truscott Ave, Middleton Grange
Credible and Honest Agent - 23 Jul 2018 Aldo has helped us both in purchasing and selling a property. He is very straightforward, knowledgeable with current market trends and provide sensible advice without putting any pressure to make decisions right there and then. Not only did he...
Mike vendor 5/38 Vine Street, Fairfield
Very Polite and Well Mannered Agent Aldo was clear with his communication and keeped me up to date with all activities. Well Done Aldo ! 16 Apr 2018- Mike
Andrew- Owner 1/9-11 Veron Street, Fairfield East
Selling my house 24 August 2016 Aldo Palermo is a great guy, I'm happy to deal with him because he is knowledgeable and honest guy, I would recommend Aldo to my friends and family. I will ask Aldo in future for sell and buy more property. Andrew La
Fay and John Mawson and family
23rd December 2014 Dear Aldo We would like to thank you for the excellent work you did as our Real Estate Agent in our task of selling our most beloved home of 49 years in Mount Pritchard. We chose you as our Real Estate Agent because you impressed us from the outset with your quietly...
AWARDS
LAING+SIMMONS FAIRFIELD AWARDS
ROBERT & RHONDA QUARTERMAIN
We wish to convey our thanks to Aldo for the way in which he conducted himself and his business regarding the sale of our property. Aldo affored us every opportunity to sell, and exceeded our expectations with his enthusiasm and tireless efforts to achieve the best outcome possible. Aldo and the...
THE MACIAS FAMILY
Please see the attachment
JOSEPH DEGUARA
Please see attachment
THANK YOU FROM STEPHEN & HONG TO ANDREW TRUONG
We would like to thank you for all your efforts in seeking the sales of our place through to completion on Monday, and congratulation you on your excellent work. We really appreciated your deligence, and the manner in which you faciliated the process between all the parties including the...
BOB TRAN & GEMMA TRAN
12 FRANCIS STREET, FAIRFIELD NSW 2165
Find An Agent